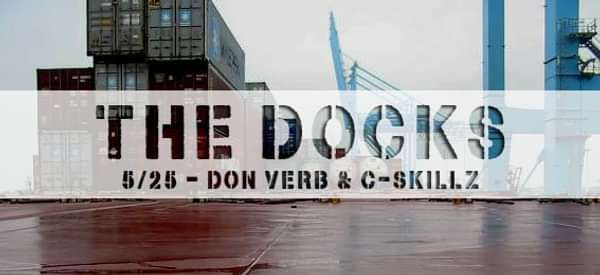 The Docks (Single) Featuring C-Skillz, Produced by OMB
An Exclusive, Advance Copy of a Single from "1996"; Don Verb's 10/2020 Album!
Pay what you want ($1 minimum)
A sneak peek into Don Verb's upcoming October 2020 street hop record, "1996", "The Docks" is a hard-hitting but ambient vibe. With freestyle cypher like flow and wordplay, this track loosely tells the story of a young man hustling to stay alive in the streets during a very bleak time; his attitude toward his neighborhood, the people around him and even other rappers is very much distorted by the grey and hopeless surroundings of the docks that he inhabits, waiting for his ship (likely stowing drugs) to come in.
OMB's haunting instrumental - lightly brushed with a zip sauce of fog horns and whining winds - provides a small meal for those with a taste for free-form thought and musical experience. We hope that this offering takes you to a place and time that we inhabit when we hear it.
Scenes (predominantly taken from Season Two) from "The Wire" fit not only the overall feeling of this song but even plenty of the story that is told between the two MC's. We hope that you enjoy the mash-up.
Please support the #realrapback movement by downloading this track and/or any of the dozens of pieces of work at http://www.donverb.com - there is a full-length album ("The Mad King") for purchase, a short collaboration album ("Sanctioned Hits") and the free Rocafella mixtape "Diamonds from Verb"!
ADVANCE LINK TO "1996" Coming Soon: A Modern-Day Boom Bap Classic!(10/29/2020)